Hidan Curse Mode Figure
Who is Hidan ?
In the anime series Naruto, Hidan is a shinobi from the Hidden Village of Akatsuki. He is known for his unique ability to cheat death, as well as his spooky appearance. Hidan is calm and collected, even in the midst of battle. He is also a very strategic thinker, able to quickly assess a situation and come up with a plan of action. Despite his murderous nature, Hidan does have a sense of honor. He is loyal to his fellow Akatsuki members and always follows orders. In many ways, Hidan is the perfect shinobi. He is deadly efficient and always gets the job done.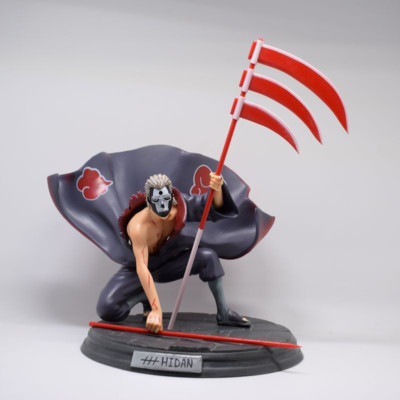 What is Hidan's weapon called ?
Hidan is known for his unique weapon, a scythe known as the Triple-Bladed Scythe. The Triple-Bladed Scythe is a powerful weapon that allows Him to collect blood for his curse ritual by wounding his enemies.
This Naruto Action Figure is part of our Naruto Figures collection where you can find officially licensed products of the Naruto universe. The Naruto Shop™ makes the customer satisfaction a priority and allow you to browse through the most amazing goodies and get them delivered to your doorstep.
Commodity Material: ABS
Condition: 100% NEW
Scale : 1/12
Size : 30 cm
Certification : CE
Package: Opp Bag Or Real Boxed
Limited edition